Introduction
Setting a future action with the PublishPress Future plugin is an easy way to automatically schedule changes to a published post or page in WordPress. When creating or editing a post or page, you can use the plugin to change the status of at a given date and time in the future.
To schedule a post to be published at a future date, see "Scheduling a Post"
PublishPress Future Plugin
The "PublishPress Future" plugin allows you to enable a future action on a post or page in WordPress. (For more information on plugins in general, see the "Website Plugins" post.) To see if you have the plugin installed, click on "Plugins" in the left-hand black menu bar on your WordPress dashboard.

Look for "PublishPress Future" in the installed plugins list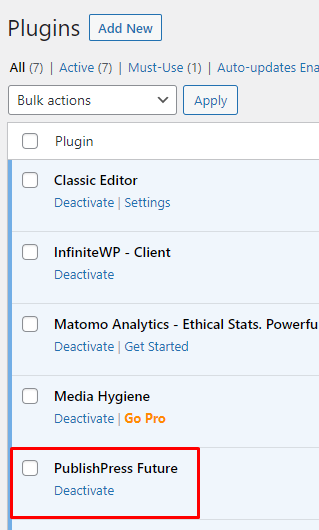 If you do not see this plugin, see "Installing a new plugin" for instructions.
Enabling Future Action
With the PublishPress Future plugin installed, a new widget will appear in the WordPess post/page editor window.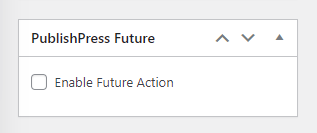 When you click the checkbox, a menu will appear with future action options: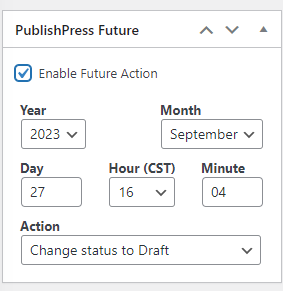 The default is to enable "Change status to Draft" one week from the current date and time (note the time is listed on the 24 hour clock). However, there are other options: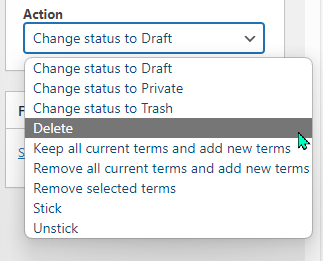 You may choose to move a post/page to Trash or Delete permanently. Other options is to make the post sticky, or stop it from being sticky. The choice is yours, but mileage may vary.
Changing the Future Action via Quick Edit
If you have the PublishPress Future plugin installed, you can use the Quick Edit to change when/what happens to a post when a certain time arrives: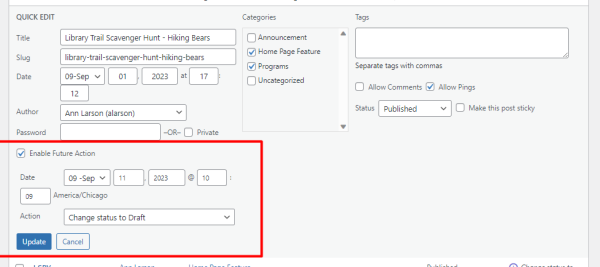 Unchecking the box deactivate the future action feature.
See "Post Quick Edit and Bulk Actions" for more details.