Note: While this webpage is technically a blog post, I have disabled the Featured Image from appearing at the top of the permalink page. So what you see here is not what you will get on your website.
Introduction
Blog posts are likely 90% of the work you will do on your websites. Most Libraries Win websites are set up to have blog posts automatically go to at least two locations on your site: a blog (slider module and/or simple blog module) and the blog post's permalink webpage. Once you create the blog post and add a featured image, where it appears is automated. You can schedule posts to appear at future dates, and if you use a plugin, you can also tell your website to remove a post after a certain date.
This guide will show you the following:
How blog posts work to fill up your website using Blog Post Slider modules and Blog Modules and how you can see the entire blog post via a permalink.
How you create a blog post with a featured image.
How to schedule a future post and how to set a post to expire at a given date/time.
Notes about featured image sizes.
How blog posts appear on a website via the Post Slider and Blog modules.
Blog Post Slider
Many websites have a blog post slider right up top on the home page: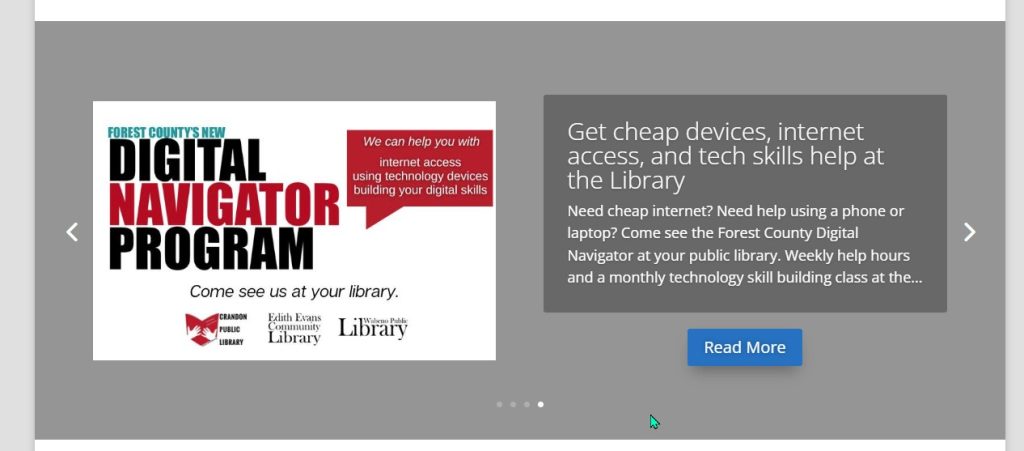 This slider gets "autofilled" with information from the blog posts you create. To see what this looks like behind the scenes, you can open the Divi visual editor and click on the gear icon in the BLACK module box where the posts appear:

This opens the module menu that shows us that the module is a "Posts Slider." The settings indicate that it shows the 4 most recent posts that were posted in the categories of "Home Page" and "Program."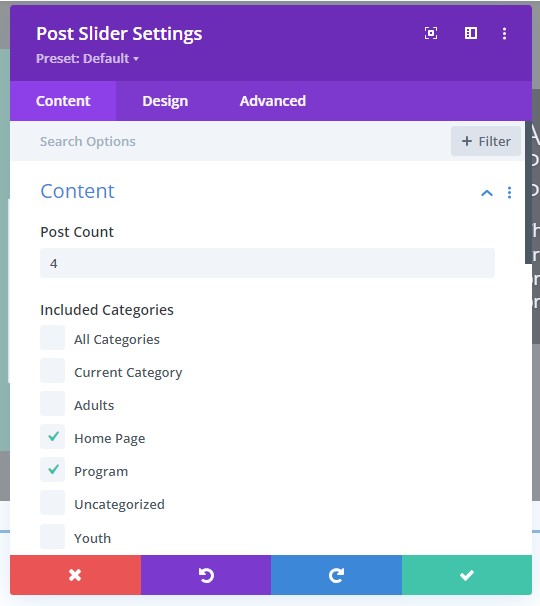 Simple Blog Module
The main difference between a "Post Slider" and a "Blog" module the slider literally slides post over a single space. A Blog is a set of stationary images that usually take up a larger space on a page – and the amount of space changes depending on the number in the "Post Count" line.
Often a "Blog" module is used on other pages of your website, and often which page is designated by the target category in the Blog module. Example: on the Crandon Public Library website, the adult programs page has a "Blog" module that displays 4 posts from the "Adults" category: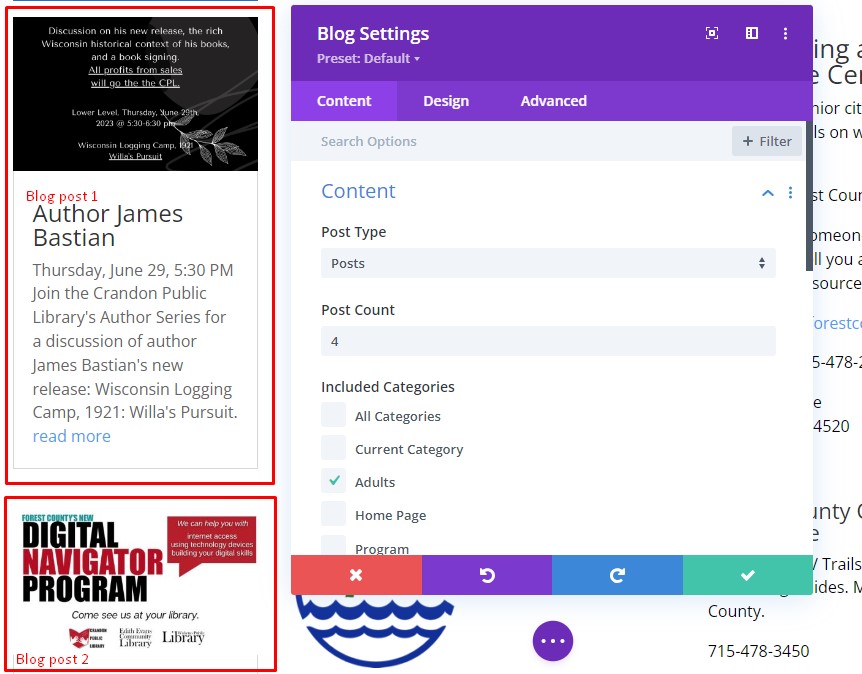 Once you understand which categories are connected to which modules on which pages (ha!), and you check the appropriate categories, these all land on these pages automatically – no extra work on your part.
Blog Post Permalink
There is one other place your blog post appears: at the post's permalink website. When you create a post, that post is assigned a permanent direct link to a webpage on your website.
You can find this when you create a new post – at the top of the post creation page beneath the title.
Any time somebody clicks on the blog post (from the slider or regular blog module), it takes the reader to the permalink page.
How to create a blog post with a featured image
What you will need:
Your post content (in words OR complete poster in JPG format*);
A picture in JPG format size for the featured image size 650px x 400px** (made in Canva, for example);
The list of categories where you want your post to appear;
The date when you want the post to begin appearing on your website (if not immediately);
The date you want the post to disappear from your website (if applicable) and the PublishPress Future plugin installed***;
Any additional documents/webpages you would like to have linked from your post. (Most often PDF format for documents.)
Create a new post with permalink.
From your website's dashboard, click "Posts" –> "Add New."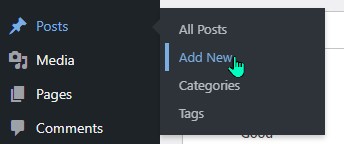 Note: we WON'T use the Divi builder – we will create this post in the standard WordPress editor.
Give your post a title and type the information you want people to know about in the text box.
Note: after you start adding text, a "Permalink" will appear under the title:

This will be the link on your website that will take you directly to the blog post. It automatically fills in the link "slug" (the bold part at the end) with the post title, but you can change it by clicking the "Edit" button. Note – it can be anything, but it must be unique to your website. You can't have two slugs called "summer-reading," for example.
Next: select the category you want the post to appear in
You must select at least one category if you want your post to appear anywhere on your webpage, but which category/categories will depend on how your website blog modules are set up.
The WVLS website needs the category of "Featured Post Slider" selected for the post to appear on the home page. Some websites may have a category "Home Page." For some others, "Uncategorized" posts will go onto the home page slider. If you want the post to appear on other pages (Adult, Programs, Children), you will need to select those categories. If you have questions about which categories are connected to which blog module, send in a help ticket.
Next: set featured image
This is where you will need that right-sized image in JPG format uploaded to your website. One easy way is to create a "Blog Post" template in Canva set up to 650 x 400 size (unless you know you need an alternative size). For this post I am going to use three individual JPG images, drop them into a Canva 650 x 400 square, then download the final image as a JPG.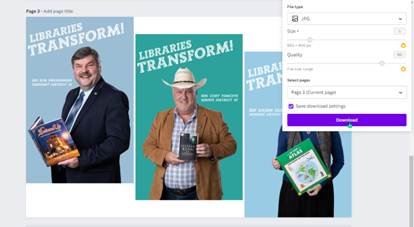 Once I have that JPG, I will upload it to my website's media gallery.
Back in my blog post editor, I will set this as my featured image: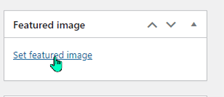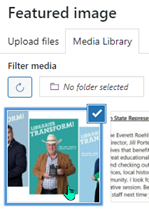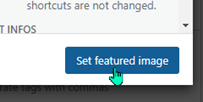 Note: the "Featured Image" will follow your post around the internet and be attached to any social media shares you make directly from your website. It is a good idea to select an image that is unique and recognizable to the content of your blog post.
Saving and Previewing your Post
Note, if it's taking you a while to finish a post (like as long as this one is taking me), I highly recommend clicking "Save Draft" periodically.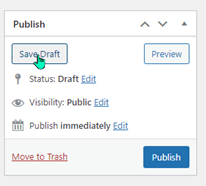 You can also preview your post by clicking "Preview" – you don't need to have your post published to be able to see what it looks like. Clicking "Preview" will open the draft changes to post in a new tab. You can refresh this tab any time after you click "Safe Draft" to see the new changes.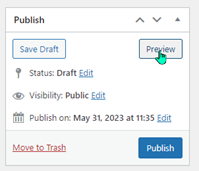 Scheduling a post
If you are creating a post but you don't want it to be visible until a future date, you can choose to change the "Publish immediately" default to future date: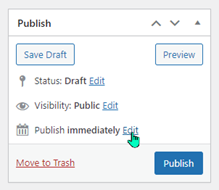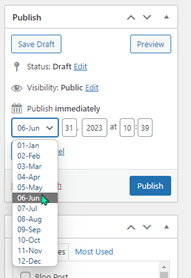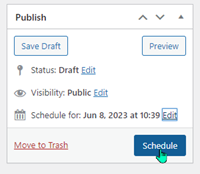 Note: you can also use this trick to bump and old blog post to the top of your published posts list. Example: you published a Summer Reading post in 2022, but you want to reuse it in 2023. Simply change the date in the dropdown to the current year and the post will now appear to be published on a new date.
Setting an expiration (unpublish) date for a post
If you have installed the "PublishPress Future" plugin (See "PublishPress Future – future action"), you will have the widget with the option to set a Future Action. This will remove a post from selected areas/all areas of your website after a set date/time.

By default, it will set the post to change status in a week, but you can change this to any date you like.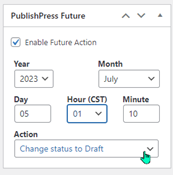 Also by default it will change the post status to "Draft." This means it will disappear from your website, but it will still appear in your posts list (so you can recycle for future use or choose to delete later). But you can also change this to other options using the "action" dropdown.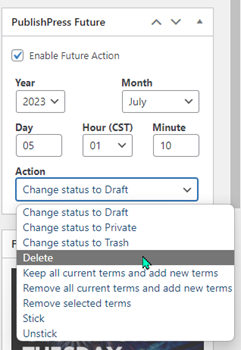 Publish your post
Once you're ready go, you can publish using the Publish widget.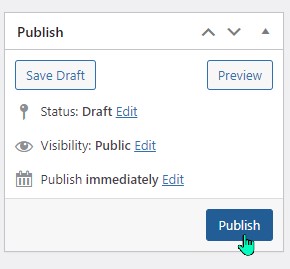 If you make changes after you publish a post, you simply need to click "update" for those changes to become publicly visible.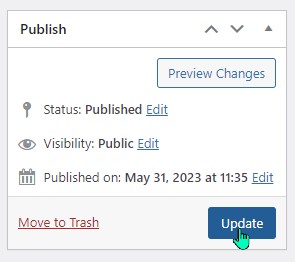 Check your work
Last step is to check all the places you think the post should appear – home page, any program/other pages, permalink.
Note on the permalink:
If you click on "Read More" in your post slider or blog post or if you copy/paste the permalink right into a browser, you will see the webpage with the complete blog post.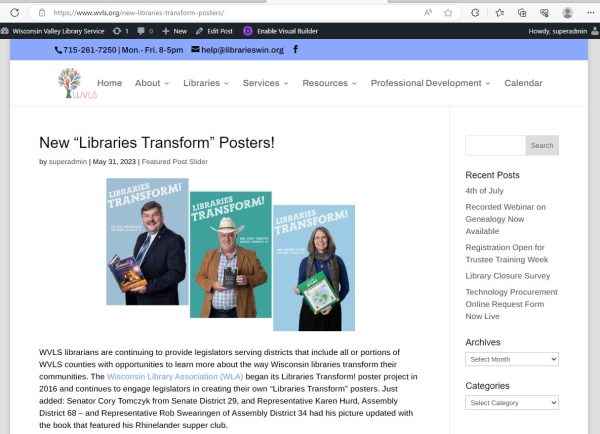 The "featured image" is what appears above the text. This is where size really matters – it will always work best with the 16:9 / 650 x 400 ratio image. If you want other images in your blog post, or if you want different sizes, you can include those in your original post, but know that the feature image will still appear on the permanent link page – and will be attached to an internet searches, social media shares, or other places the permalink of the post appears on the internet.
---
Some post sliders work well with various sized featured images, but once you click on the permalink page, you will see that it automatically cuts off the parts outside of the 16:9 ratio. You won't be able to control which parts of the image appear. Other post modules are stuck with the 16:9 ratio. Your website experience may vary.
Example: Blog post using 8 ½ x 11 poster as featured image. Note the blog post cuts off the top and bottom, and the same top/bottom parts are cut off in the permalink.