Menus are the key elements that allow a user to navigate your website. WordPress/Divi offer three menu options, but we generally only use two of them. These can be edited through both WordPress OR the Divi theme. More than likely your menus will be managed through the WordPress editor.
In addition, there are three areas where a logo may be displayed: on the browser tab (site identity), in the primary (dropdown) menu, and in some footer menus.
Changing a Logo is covered in this post.
Your website design may vary – yours may use some alternative designs for menus or some global options. Send a ticket for assistance in reviewing the design of your specific website.
This article covers:
Understanding and identifying menus on your website (listed from top down on a webpage).
Understanding what edits and adjustments can be made to your menu using the WordPress vs. the Divi theme editor.
Note: there is a "Manage with Live Preview" editor option as well as a standard editor option. This tutorial will focus on the standard editor – my advice is to have your live website open in a second tab so you can manipulate the menu on one tab and refresh to see changes on the other. Once you are comfortable with how the menu structure works, you can try the "Live Preview" version.
Header & Navigation
The top of your webpage has two spaces for header information which includes the header elements area, and the Primary (dropdown) menu area. While technically the header elements aren't a "menu" they do occasionally need to be updated and can be tricky to get at.
Header Elements (Divi Theme)
While technically not a "menu," the header elements that appear at the top of many library websites do occasionally need to be changed.

This area is part of the Divi Theme, so needs to be accessed through the Divi Theme Customizer, accessed in the lefthand menu on the dashboard.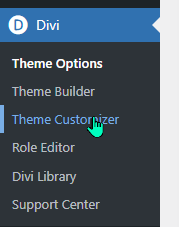 This customizer. Next click on "Header & Navigation."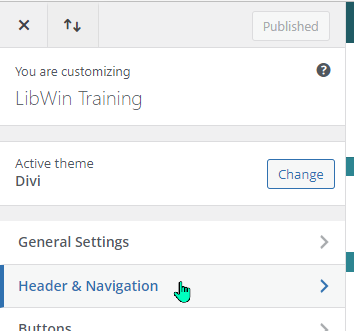 Next select Header Elements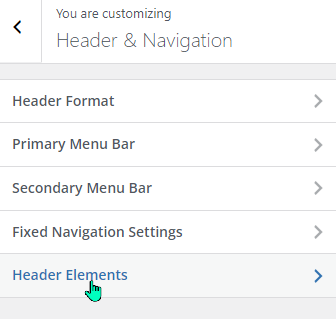 Now you can update the information on the top header bar of your website: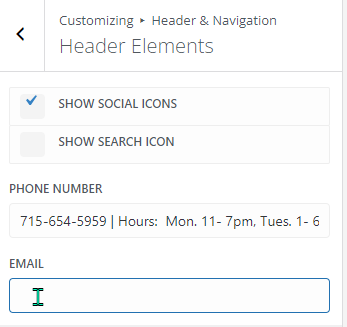 Note: this screen does show a live preview of the changes you are making on your websie.